Opis
SZKLANY KOREK ANALNY Z SEKSOWNĄ KOTKĄ
KOREK ANALNY WYKONANY Z NAJWYŻSZEJ JAKOŚCI HARTOWANEGO I BARDZO BEZPIECZNEGO SZKŁA.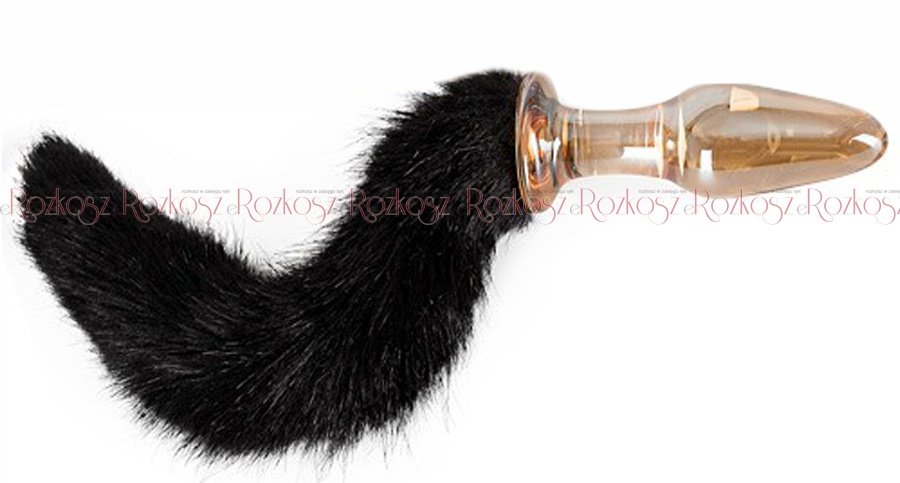 Koreczek jest UNISEX dzięki temu możesz się stać seksownym koteczkiem nie zależnie od płci.  Szkło ma to do siebie, że bardzo łatwo jest utrzymać je w higienie, jest bardzo gładkie, dzięki czemu umieszczenie go w miejscu docelowym jest niezmiernie łatwe.
Kolejnym bardzo znaczącym atutem tego koreczka jest to, że można do niego używać żeli wodnych jak i silikonowych. Jak wiadomo, silikonowe żele tworzą ochronną warstwę na delikatnej skórze zwieraczy, jednak nie mogą być używane przy wszystkich gadżetach. Ten oto koreczek pozwala na ich stosowanie.
Szklany koreczek z kitką jest także całkowicie wodoodporny a co najważniejsze HIPOALERGICZNY. To znaczy że nie powoduje uczuleń ani podrażnień, nawet przy długotrwałym noszeniu. Dzięki temu zabawa w kotka może trwać i trwać…..
Fajną dodatkową możliwością jaką daje ten niesamowity koreczek jest możliwość podgrzewania (w ciepłej wodzie) lub chłodzenia (w lodówce). Osoba obdarowana tym koreczkiem poczuje zupełnie nowe nieopisane doznania jakie daje zmiana temperatur….
DLA CZEGO WARTO WYBRAĆ TEN KOREK

WYKONANY Z HARTOWANEGO SZKŁA NAJWYŻSZEJ JAKOŚCI

WYPEŁNIONY W ŚRODKU

HIPOALERGICZNY

NE POWODUJE PODRAŻNIEŃ (MOŻNA GO NOSIĆ BARDZO DŁUGO)

CAŁKOWICIE BEZPIECZNY

UNISEX

DOSKONAŁY DLA POCZĄTKUJĄCYCH JAK I DOŚWIADCZONYCH

ŁATWY DO UTRZYMANIA W CZYSTOŚCI

MOŻNA PRZY NIM UŻYWAĆ ŻELI WODNYCH I SILIKONOWYCH

BARDZO BARDZO SEKSOWNY

CECHY PRODUKTU:
WYKONANY Z BEZPIECZNEGO MOCNEGO SZKŁA HARTOWANEGO – WYPEŁNIONY W ŚRODKU


KOLOR ZŁOTO PRZEŹROCZYSTY

PRZYCZEPIONY NA STAŁE SEKSOWNY FUTERKOWY OGONEK, BARDZO DELIKATNY

DŁUGOŚĆ KORKA 12cm

GŁĘBOKOŚĆ PENETRACJI 10,5cm

ŚREDNICA 2,1 DO 3,8cm

DŁUGOŚĆ OGONKA 28cm

MATERIAŁ: HARTOWANE SZKŁO I AKRYL