Opis
Lovely Lovers SLIDE4EVER Silicone Lube 150ml
– ekstremalnie wydajny żel silikonowy UNDERWATER FORMULA!



Zdobywca nagrody
LAUR KONSUMENTA – ODKRYCIE ROKU 2014
Ekstremalne nawilżenie na bazie silikonu
Bardzo wydajny i długotrwale nawilżający żel intymny na bazie silikonu. Dzięki wyjątkowej formule zapewnia optymalny poślizg zapobiegając otarciom i podrażnieniom nawet w najbardziej ekstremalnych warunkach (np. pod wodą). Poprzez odpowiednie nawilżenie zwiększa odczuwanie doznań przez obojga partnerów. Idealny w przypadku problemu suchości miejsc intymnych.

Zalety SLIDE4EVER Silicone Lube:
długotrwałe nawilżenie
nawet pod wodą
gwarantuje ekstremalny poślizg
bezpieczny dla delikatnej skóry stref intymnych
zapobiega otarciom i podrażnieniom
Ze względu na wszystkie wyżej wymienione zalety to właśnie SLIDE4EVER jest polecany każdemu, kto odczuwa, iż nawilżenie żelem na bazie wody to za mało.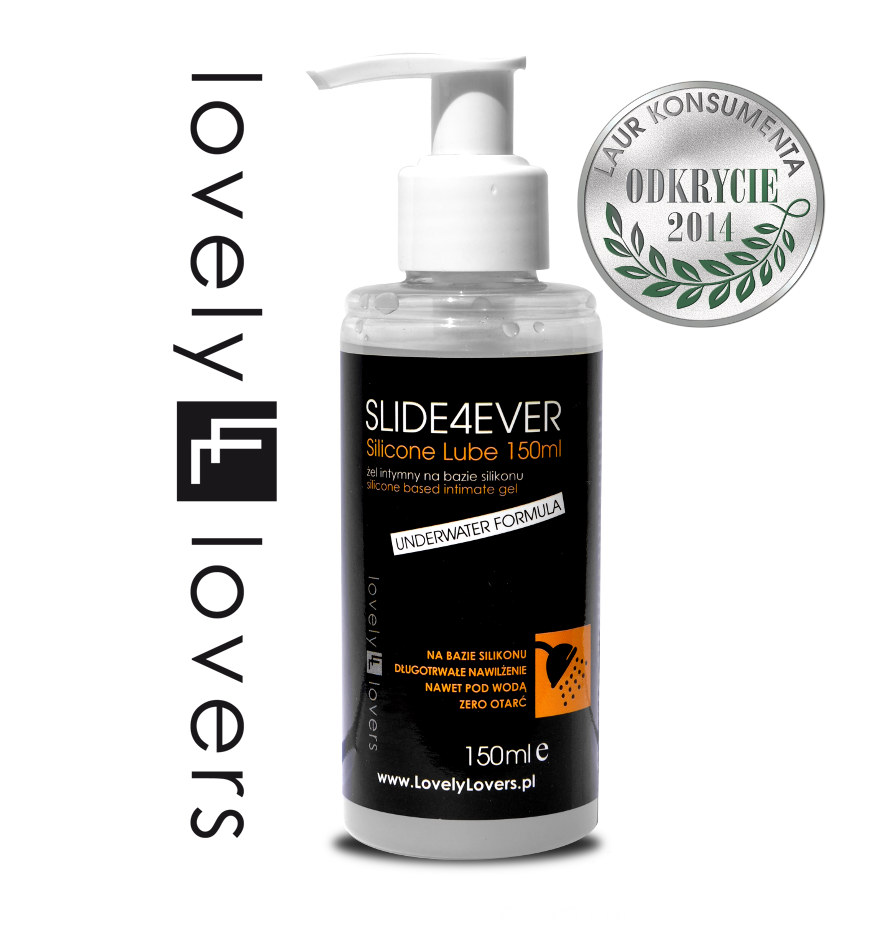 W czym sprawdza się najlepiej?
Lovely Lovers SLIDE4EVER Silicone Lube jest formułą stworzoną z myślą o wszystkich, którzy cenią sobie możliwie jak najbardziej długotrwałe nawilżenie niezależnie od warunków. Żel znakomicie sprawdzi się w trakcie:
WODNE IGRASZKI

dzięki zastosowaniu silikonowej bazy żel wydajnie nawilża i nie wypłukuje się tak łatwo jak żele na bazie wody. Dlatego można go stosować pod prysznicem czy w wannie.

BARDZO INTENSYWNY STOSUNEK/MASAŻ

dzięki wyjątkowo śliskiej formule i wydajności żel zaspokoi nawet najbardziej wymagających

FISTING, ANAL I INNE…

ekstremalnie długotrwałe nawilżenie jakie zapewnia SLIDE4EVER jest idealne do różnych zabaw w tym nawet fistingu
Lubrykant na bazie silikonu
Żel intymny SLIDE4EVER Silicone Lube został stworzony na bazie silikonu. Dzięki temu pozostaje on na skórze w postaci mikro-powłoki zapewniając wyjątkowo długotrwałe nawilżenie, nawet podczas podwodnych igraszek..
Wygodna butelka z dozownikiem
Dzięki zastosowaniu wysokiej jakości precyzyjnego dozownika można dokładnie dozować ilość żelu. Pompka ma funkcję OPEN/CLOSE zapobiegającą przypadkowemu wylaniu się zawartości. Butelka w której znajduje się żel wykonana jest z materiału odpornego na mechaniczne uszkodzenia, dzięki czemu nie musisz się obawiać, że pęknie przy upadku.
Instrukcje
SPOSÓB UŻYCIA: Przekręcić pompkę do pozycji OPEN. Nanieść pożądana ilość żelu na miejsca intymne. Czynność tą można powtarzać wielokrotnie. Przed pierwszym użyciem nanieść niewielką ilość na wewnętrzną część przedramienia. W razie uczulenia przerwać stosowanie.