Opis
Nowa wersja kulek OVO 2017
Kulki w tej wersji są nieco mniejsze od poprzedniczek. Różnica to 0,5cm w średnicy oraz kilka gram ujęte w wadze.
Pozostają równie piękne, równie ekskluzywne i designerskie jak ich poprzedniczki. …..  A może nawet są ładniejsze….
Sprawdźcie sami.

Opakowanie zawiera 2 komplety kulek gejszy:
2 lżejsze kolorowe o wadze jendej kulki18g – możesz używać ich w czasie spaceru, zakupów, pracy

2 cięższe srebrne o wadze jednej kulki 25g – najczęściej używane w domu 
Loveballs L1a OVO przeznaczone są dla kobiet,  które cenią swoją zmysłowość – łączą przyjemność oraz system ćwiczeń, który pozwala partnerom na rozbudowę intymności na przyszłe lata.
L1a są nieco mniejsze od poprzedników. Każda kobieta jest inna, także i tam… Wagina zmienia się także po porodzie czy z wiekiem. Teraz wszystkie pragnące zaznać luksusu, poczuć kulki OVO w sobie mają wybór. Od tego roku kulki można powiedzieć że kulki OVO są dla wszystkich kobiet..
Zaprojektowana jako stylowa alternatywa dla tradycyjnych "kulek gejszy", Loveballs L1a pracują nad zwiększeniem siły i sprawności ściany pochwy i czynią ją bardziej czułą na dotyk, poprawiając kontrolę mięśni co w rezultacie zapewni silniejsze orgazmy w przyszłości
Delikatnie umieszczone w środku powodują wibracje spowodowane ruchem, co jest najbardziej przyjemnym ćwiczeniem z możliwych. Loveballs L1a OVO są idealnym akcesorium dla tych, którzy cenią sobie przyjemności jakie niesie dbanie o własne ciało.
| | |
| --- | --- |
| | Kulki Gejszy OVOL1a, zapewniają płynną oscylację jakiej próżno szukać w konkurencyjnych, nadają one ćwiczeniom zupełnie nowy wymiar doznań. Wymiar daleko wykraczający poza to co mogą zaoferować wszystkie inne kulki gejszy |
Stosowanie kulek gejszy  zwiększa wrażliwość pochwy na bodźce dotykowe i ułatwia osiąganie orgazmu podczas stosunku. Noszenie kulek wpływa korzystnie na sprawność mięśni Kegla i ułatwia ich trenowanie.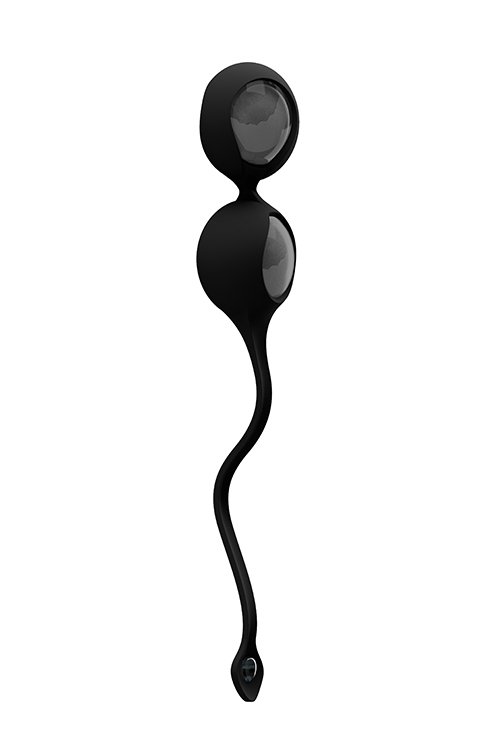 Kulki Gejszy OVO L1a WYZNACZAJĄ NOWE STANDARDY w tej kategorii:

Posiadają aż 15 lat Gwarancji

Wykonane z Bezzapachowego HYPOALERGICZNEGO Silikonu Medycznego, są całkowicie bezpieczne dla każdej Kobiety

100% Wodoodporne

Produkcja Niemiecka jest Gwarancją wysokiej jakości 
Specyfikacja:
Średnica kulki 3cm 

Średnica kulki w pierścieniu 3,2cm

Długość całości 20cm 

Długość części wchodzącej do pochwy 8cm

2 rodzaje kulek – 2 kulki po 18gram kada oraz 2 kulki po 25gram każda

Możliwość łatwej wymiany kulek 

Wykonane z silikonu medycznego najwyższej jakości

Łatwe do utrzymania w higienicznej czystości